Stirred up dust from a passing coalbed methane truck floats over a cluster of compressor stations, after the truck has disappeared down SA Road, towards Tooter Rogers' ranch. This county road serviced only a handful of vehicles prior to the onset of methane activity. Now, as trucks travel to and from their worksites, a steady stream of traffic flows every dawn and every dusk, sending dense clouds of dust over crops and grazing land. White-out driving conditions are created, hazardous with open ranges and abundant wild-life. Grit-covered grazing lands put cattle at risk for losing teeth and dropping body weight.
The land is sprinkled with methane buildings, pipeline construction and drilling sites. The Powder River Basin buzzes to the steady sound of compressors running 24 hours a day.
Gary Packard fixes fencing while his grandchildren, Hannah Rockafellow, 8, and Mason Rockafellow, 11, play in Crazy Woman Creek on the Packard's Arvada ranch. Black Diamond, who holds the lease to mineral rights under neighboring land, is trying to condemn the Packard's property in order to discharge methane water from nearby drills into Crazy Woman Creek. The estimated 500 million gallons of water each month could substantially raise water levels and lead to erosion. In addition, the high levels of saline and other contaminants in discharge water could leave the creek unsuitable as drinking water for livestock. With insufficient testing, it is still uncertain what long-term effects discharge water will have on the land and animals.
"It's a full-time job looking after all this methane. You don't dare leave." - Ken Clabaugh, ranch owner
Mason Rockafellow, 11, Hannah Rockafellow, 8, and their dog Mandy ride in the back of their grandfather's pick-up truck as he tracks down an unknown person walking through the family's ranch. They found a contracted worker doing coalbed methane work, days after Lance's legal window for activity on the property expired.
Gary Packard reaches into a well that is supplied with methane water.
"This is the crap that's coming out of the water. What are we supposed to do with this?" -Gary Packard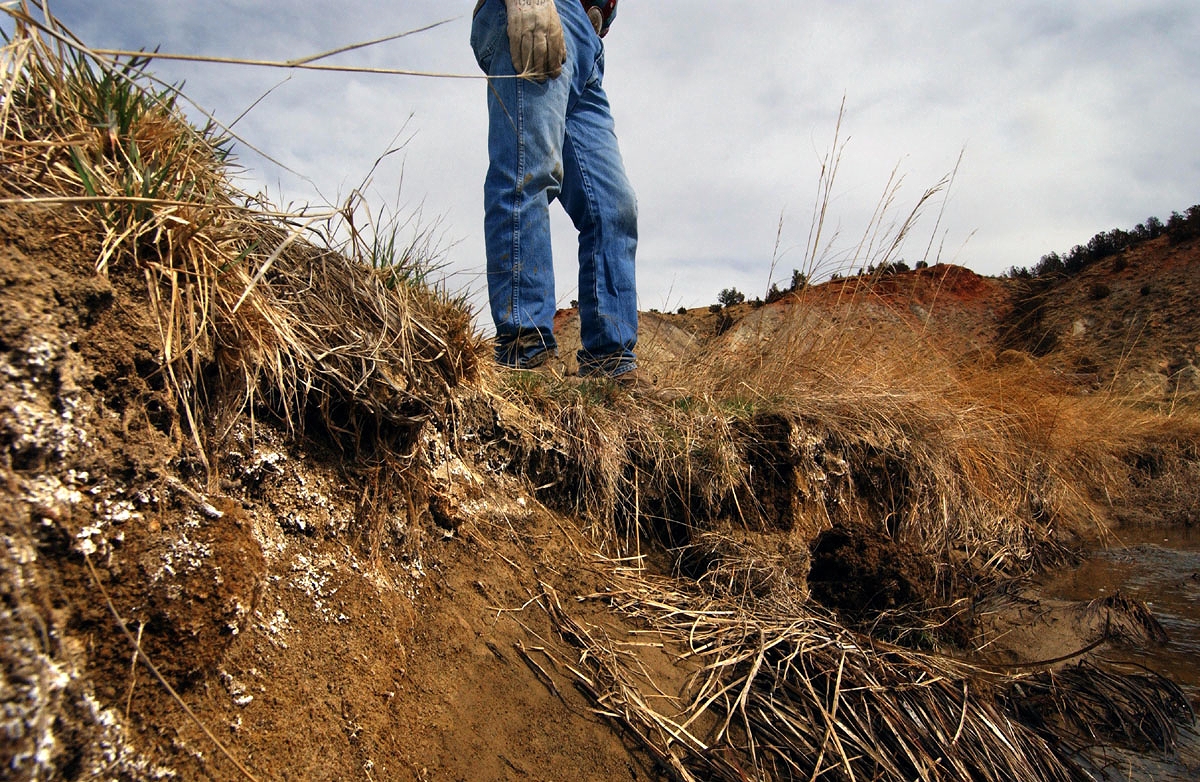 Tooter Rogers stands on top of salt deposits that line the bank of SA Creek, after only 10 days of exposure to coalbed methane product water. Two miles upstream, a generator supplies power to a pump that routes Huber's discharge water around Tooter Rogers' ranch and into the Powder River.
On March 19th, Huber's generator failed, resulting in the flow of discharge water through SA Creek for approximately two weeks.
A day-old calf lies in SA Creek, after drowning the night before. Tooter Rogers, ranch owner, and Doug Masters, construction supervisor for Baker Energy (contracted by Huber,) follow the calf's last steps. This creek, which usually only has running water after large storms, would have been dry if not for the failure of Huber's generator, and the resulting stream of discharge water. Rogers did not request reimbursement. He just wanted to show Huber that their actions directly effect his life.
"The DEQ says they can't control the quantity of water, just the quality. And that the quantity doesn't matter. Well quantity mattered to that calf." - Tooter Rogers
Tudor Rogers and his grandsons savor an evening of catfishing on the Powder River, behind Rogers' ranch.
J.M. Huber began dumping methane product water into the Powder River in the fall of 2005. A few studies are underway to monitor any effects product water may have on catfish and other aquatic life in the Powder River.
Huber is not waiting for the results.
Jerry Collins and Delbert Kamdamas charge up an air compressor to check for leaks in pipeline they are installing throughout Tooter Rogers' ranch. While the Rogers own the surface land, J.M. Huber owns the lease to subsurface mineral rights. Through a surface agreement, Huber is entitled to build roads, drill wells and install pipeline to extract the buried minerals.
cbm